Yashar started a Persian Teams channel at Microsoft which consists of Persians at Microsoft – all around the world!
He hosts meetings on the last Thursday of each month. And during these sessions he invites and interviews special guests which consists of successful tech & non-tech Persians, so as a team they can learn and inspire from!
He is honored to have the following guests volunteer their time, knowledge and experience and would like to personally thank them for accepting his invitation and continuing to give back to the community! (Please note: No recordings available or Microsoft internal only)
Pejman Nozad | Managing Partner at Pear Ventures

June 30th, 2022 | Interview
Pejman did not enter the tech industry like most venture capitalists. Having immigrated from Iran, he lived in an attic above a yogurt shop and took a job at a rug store in the Valley, selling carpets to local clientele. But he immersed himself in what was happening at the vanguard of technology, noting the patterns that tended to predict a successful company. Slowly, with a few small investments, he developed a reputation both for identifying talent and helping take promising ideas to the next level.

Eventually, from next to nothing, he built a $80B+ portfolio, investing in over 300 startups and seeding several multi-billion dollar companies such as:

Dropbox
DoorDash
Guardant Health
Lending Club
SoundHound
and Gusto.

Today he is the founding managing partner at Pear Ventures, an early stage fund in the Silicon Valley. did not enter the tech industry like most venture capitalists.
Hadi Partovi | CEO of Code.org

May, 31st, 2022 | Interview 
Hadi Partovi is a tech entrepreneur and investor, and CEO of the education nonprofit Code.org. Born in Iran, Hadi grew up during the Iran-Iraq war. After immigrating to the United States, he spent his summers working as a software engineer to help pay his way through high school and college.

Upon graduating from Harvard with a Masters degree in computer science, Hadi pursued a career in technology starting at Microsoft where he rose into the executive ranks. He founded two tech startups that were acquired by Microsoft and Newscorp respectively, and he has served as an early advisor or investor at many tech startups including Facebook, Dropbox, airbnb, and Uber.

In 2013 Hadi and his twin brother Ali '94 launched the education nonprofit Code.org, which Hadi leads full-time as CEO. Code.org has established computer science classes reaching 30% of US students, created the most broadly used curriculum platform for K-12 computer science, and launched the global Hour of Code movement that has reached hundreds of millions of students spanning every country in the world. Hadi's family lives in Seattle, Washington and in his spare time he enjoys skiing, water sports, playing music, and playing word games.
Dr. Samineh Shaheem | Professor of Psychology & Leadership

Mar 31st, 2022 | Topic: Truth. Trust. Transformation.
Learning & Development Senior Consultant | Transfromatinal Advisor | Knowledge Entrepreneur | NeuroLeadership Executive Coach | Professor of Psychology and Leadership | Tedx & Keynote Speaker

Learning and development has been the main focus of my career in a deep and deliberate manner, through the application of psychological and adult educational principles and practices. The intertwined nature of my multiple roles throughout my career (such as a Learning & Development Senior Consultant and university professor) are inseparable and constantly leveraged to engage in purposeful work and to make a positive impact. So when I work as a consultant, my academic background and activities colour and frame both the process and product.

As a university professor, my consulting projects breathe life and relevance into every learning sessions. As Dean and Executive Director of a Post Graduate university in London for the past 5 years, I had the privileged to merge and manage the kaleidoscope of learning, skills and experiences in order to reach shared aspirations and support thousands of people through transformative journeys.

Now it's time to broaden that reach by working on projects and initiatives which will impact others globally – couldn't be more excited!
Bita Milanian | Marketing Executive & Producer

Feb 24th, 2022 | Interview
Bita Milanian is a respected marketing executive, branding & communications strategist, community organizer and producer. She currently serves as the SVP of Global Marketing for Ribbon (rbbn.com), a publicly traded global communications company, serving 140 countries. Prior to joining Ribbon, she held the top post of foundation Executive Director at Farhang Foundation and is also the founder of the creative agency Butterfly Buzz. She is the recipient of many awards and accolades, including Conscious Company Media's 35 World-Changing Women, Capacity Media's Women in Tech 2019 Agent of Change award and CIOLOOK MAGAZINE's 10 Most Successful Businesswomen in 2020. She is an editorial contributor and member of Forbes Communications Council, as well as a member of the prestigious CHIEF.com network.

Her love of cuisines and cooking led her to start BitaKitchen.com where she shares her simple, quick and healthy recipes with all. "Food connects us," Bita writes, "and when we are connected, we have the power to bring cultures together for positive change." Bita is also the host and producer of the monthly podcast "B the Change".
Tehran Von Ghasri | Comedian, Actor, Writer

Jan 27th, 2022 | Interview
Tehran Von Ghasri, is a comedian, actor, writer, host with a personality and charm that's larger than life.  Tehran is a Washington DC native and Los Angeles transplant, born to an Iranian immigrant father and an African-American mother.  Adding to his eclectic roots is the mixture of Jewish, Christian, Muslim, and Zoroastrian grandparents. Tehran and his comedy are as international, inclusive, and culturally diverse as they come.  Armed with degrees in Politics & Communications, a Masters in Econ, and a Law Degree, Tehran combines academics with street smarts to bring comedy, social commentary, and social activism alive on stage in the most fun and humorous of ways.  A perfect blend of Dave Chappelle meets Maz Jobrani, Tehran has been seen on HBO, Comedy Central, and Fox.  Find Tehran online IG/FB/TW: @iamtehran
Payam Banifaz | Actor, Writer, Comedian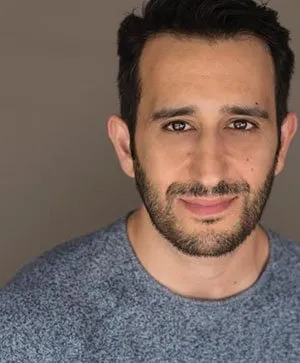 Oct 28th, 2021 | Interview
Payam (Peter) Banifaz is an actor, and improviser residing in Los Angeles. He was born in Tehran, Iran and in order to flee the Iran/Iraq War immigrated with his family to the U.S. at age 7. He has studied under legendary improvisers Billy Merritt, Ari Voukydis, Sean Conroy, Alex Fernie, Will Hines, Suzi Barrett, Alex Berg, Eugene Cordero, Johnny Meeks and a host of others. He was a member of the Maude Team, "The Royal Bermuda Whiskey Club" as well as "Nephew" and is currently on the Maude Team, "Old Flame". He was a member or the Harold Team, "Knucklepuck and currently plays with "Queen George". He has been in several national commercials, and guest starring roles in pilots for ABC, CBS, and USA Networks as well roles on TV shows such as, "Veep", "Teachers", "Silicon Valley", "Mom" and "Brooklyn Nine Nine" among others. He also has a recurring role on season 8 of Showtime's "Shameless. He has an MBA that he never uses and loves animals.
Marjan Sarshar | Founder of Kreation Organic

Sep 30th, 2021 | Interview
Marjan Sarshar was born and raised in Tehran, Iran before escaping to the U.S. as a teenager. Marjan's journey as a refugee and immigrant has brought many obstacles; however, she considers them a blessing and a positive learning experience. Kreation Organic was born out of the love of a single mother raising two daughters and a mission to put their well-being first, which transcended into a larger passion to nurture her community and herself.

Marjan built an empire of thriving lifestyle kafes and organic juice bars from the ground up in Los Angeles, and she does not plan on slowing down anytime soon. Marjan is putting her lifelong dreams into action by giving back to the community through Kreation Farms: providing healthy, local, and environmentally sustainable options, and through the Kreation Foundation: pushing toward social change, political activism, humanitarian efforts and promoting global peace!
Jimmy (Jamshid) Delshad | Beverly Hills Mayor
Aug 26, 2021 | Interview
Honorable Jimmy Delshad is a well-known entrepreneur and business executive, as well as a Two-Term Mayor of the City of Beverly Hills and the highest-ranking Iranian-American elected official in the US. He is currently the official Ambassador. He was the first Iranian-American to become two-term president of Sinai Temple. He has a degree in Computer Science and a strong background in technology, business operation and entrepreneurship. As the Chairman of Delshad Capital Group, he is a well-known management consultant, motivational speaker and investor.

With two decades of experience as a business leader and community activist, Delshad understands the needs of Beverly Hills. As a council member, Delshad has worked to make Beverly Hills a safer and more secure community for all. He believes that it is important to emphasize growth that benefits the city directly. With his background in computer technology, Delshad brought forth "Smart City" initiatives for wireless technology, security camera technology for traffic control, and security for businesses and schools.  His main ambition is to make Beverly Hills the "safest and smartest" community in America.
Nima Behnoud | Fashion Designer
July 29, 2021 | Interview
Nima Behnoud an Iranian fashion designer, engaged in experimental garment alteration which became emblematic of the youthful underground scene in Tehran in the '80s. Today the same hunger and fascination has turned into an organized clothing line — NIMANY — Now their dream is to use their brand to share their magical teenage years in Tehran. Quotes by Persian poets, highlighting the visual artistry of calligraphy, tell the story of their culture through fashion, inserting their art into daily life.

In 2004 he launched his company, Nimany, to produce and market the shirts. From the start, his creations attracted notice wherever he went—and he goes out a lot. Hobnobbing with such celebs as Heidi Klum, Alexandra Richards (daughter of Keith), stylist Philip Bloch, and Nicky Hilton—all of whom Behnoud met through friends in the fashion world—didn't hurt. He still has a day job as an art director at upscale watchmaker Tourneau. But he longs to be running his own business full time, he says. "I've been in the fashion industry since I moved here."

The exclusive T-shirts, which are sold only at Fred Segal boutiques and on Behnoud's Nimany website, are made by hand in New York City. Behnoud makes a limited number of 15 styles for men and 15 for women, offering two collections a year.
Rudi Bakhtiar | Journalist and TV producer
June 24, 2021 | Interview
Rudabeh Bakhtiar is an American journalist and television producer. She is best known for anchoring CNN Headline News Tonight, as well as Anderson Cooper 360, Voice of America, and Reuters News.

In 1996, Bakhtiar joined CNN and held multiple positions in her 9 years at the cable news network including anchoring CNN Headline News Tonight on the CNN Headline News network. She has co-anchored CNN's Emmy nominated CNN Newsroom and worked as a dedicated correspondent for Anderson Cooper 360.

She also anchored the start of CNN's Headline News coverage of the September 11 attacks. She had left CNN to care for her dying father after almost 10 years in cable news.
Reza Rohani | Pianist & Composer
May 27, 2021 | Interview
Reza Rohani, son of the famous Iranian composer Anoushirvan Rohani, was born in 1977 in a family surrounded by music. At the age of fifteen he left his hometown Tehran towards Germany to fulfill his dream of studying classical music. After finishing school and spending three years in the Bavarian college for music, he fell in love with jazz and this has since defined his professional life.

After the college he went on to the "Hochschule fuer Musik und Theater" in Hanover where he graduated in 2005. Going back to Iran after his graduation, he founded one of the most celebrated newcomer bands in the Iranian instrumental music scene called "Beyond the Moon", featuring Koroush Babaei, Homayoun Nasiri, Dara Daraei.

He recently moved to California, where he started a new ensemble featuring the brilliant American Saxophone player Joe Berry. He also tours with his father Anoushirvan Rohani, as arranger and the leader of the ensemble. About his music he says: I am trying not to simply mix the two musical cultures, but to transcend them both by creating a new musical genre in which one can find both Persian and Jazz roots outside the traditional limits. In effect, I am trying to be a composer without borders.
Dr. Ali Khademhosseini | CEO of Terasaki / Harvard Professor
April 29, 2021 | Interview
Dr. Ali Khademhosseini received his Ph.D. in bioengineering from MIT (2005), and MASc (2001) and BASc (1999) degrees from the University of Toronto both in chemical engineering. He is the CEO of the Terasaki Institute for Biomedical Innovation. Formerly, he was Levi Knight Professor of Bioengineering, Chemical Engineering, and Radiology at the University of California-Los Angeles (UCLA). He was the Founding Director of the Center for Minimally Invasive Therapeutics at UCLA.

He joined UCLA starting from Nov. 2017 from Harvard University where he was a Professor at Harvard Medical School (HMS) and faculty at the Harvard-MIT's Division of Health Sciences and Technology (HST), Brigham and Women's Hospital (BWH) as well as an associate faculty at the Wyss Institute for Biologically Inspired Engineering.

He is a leader in applying bioengineering solutions to precision medicine.He has edited multiple books/journal special issues and is an author on >650 peer-reviewed journal articles, editorials and review papers, >70 book chapters/edited books, and >20 patent/disclosure applications. His work has been published in leading journals and routinely highlighted in international media.  He has been cited >64,800 times and has an H-index of 131. Also, he has given over 250 invited seminars and keynote lectures. Annually for the past five years, he has been selected by Thomson Reuters as one of the World's Most Influential Minds as a Highly Cited Researcher.

Dr. Khademhosseini's interdisciplinary research has been recognized by over 60 major national and international awards. He is the recipient of the Presidential Early Career Award for Scientists and Engineers (PECASE), the highest honor given by the US government for early-career investigators. In 2007, he was named a TR35 recipient by the Technology Review Magazine as one of the world's top young innovators. In 2011, he received the Pioneers of Miniaturization Prize from the Royal Society of Chemistry (RSC) for his contribution to microscale tissue engineering and microfluidics. In 2016, he received the Sr. Scientist Award of Tissue Engineering and Regenerative Medicine Society-Americas (TERMIS-AM) and in 2017 he received the Clemson Award of the Society for Biomaterials. He is a fellow of the American Institute of Medical and Biological Engineering (AIMBE), Biomedical Engineering Society (BMES), Royal Society of Chemistry (RSC), Biomaterials Science and Engineering (FBSE), Materials Research Society (MRS), NANOSMAT Society, and American Association for the Advancement of Science (AAAS). He is also the recipient of the Mustafa Prize ($500,000 prize) as well as a member of the International Academy of Medical and Biological Engineering, Royal Society of Canada, and Canadian Academy of Engineering.

Dr. Khademhosseini is an Associate Editor for ACS Nano. Previously, he served as the Research Highlights editor for Lab on a Chip.  He is on the editorial boards of numerous journals including Small, RSC Advances, Advanced Healthcare Materials, Biomaterials Science, Journal of Tissue Engineering and Regenerative Medicine, Biomacromolecules, Reviews on Biomedical Engineering, Biomedical Materials, Journal of Biomaterials Science-Polymer Edition and Biofabrication.
Shally Zomorodi | News Anchor
March 25, 2021 | Interview
Fox 5 Morning News Anchor Shally Zomorodi has been waking up San Diego for more than a decade. A dedicated journalist, Zomorodi launched her news career as an assistant for KTTV FOX 11 in Los Angeles. Quickly advancing into an on-air reporting position in Beaumont, Texas, Zomorodi, with her winning smile and refined reporting skills, woke the Southwest residents of the Lone Star state to breaking local and national news.

Shally's embracing personality and dedicated reporting returned her to the Southland and family she loves dearly in Orange County. She reported for LA City View in Los Angeles and then became the anchor of DAYBREAK OC, a two hour live morning show broadcasting from the heart of Orange County for all of Southern California.

Shally credits her success in broadcasting to pageants. Shally won the title of Mrs. California Globe and was 3rd runner up to Mrs. US GLOBE. She also held the titles of Miss Orange County Teen USA and Miss Orange County USA. It was during her competition at MISS CALIFORNIA USA that Shally won an award in journalism. She left law school to pursue her dream to work in broadcasting and says she is working her dream job every day because of pageants. Shally recently started her Podcast, It is what it is with SHALLZ, talking all things life.
Sepideh Nasiri | CEO of 'Persian Women in Tech'
Feb 25, 2021 | Interview
Sepideh Nasiri is the CEO and Founder of Women of Middle East and North Africa (MENA) in Technology (previously known as Persian Women In Tech). She is an award winning serial entrepreneur with over 16 years of experience in the Tech Industry, and a life-time advocate for women, diversity and inclusion.

Sepideh is responsible for the strategy and oversight of Women of MENA in Tech programs and global operations across 17 cities. As the CEO, much of Sepideh's work is focused on connecting communities, companies, and individuals to bring change in how we should invest in minorities and immigrants.

Sepideh's leadership is recognized globally for advancing women's careers in STEM, and developing scalable mentorship and community driven programs. Currently, Sepideh advises global initiatives such as WeMENA, a program by the World Bank, and TechWomen, an initiative of the U.S. Department of State's Bureau of Educational and Cultural Affairs (ECA). Sepideh mentors many female entrepreneurs and founders in technology around the world, and serves as an advisor to many early stage startups.

Prior to Women of MENA in Tech, Sepideh started her career as a Co-founder and Managing Editor of a digital and print Los Angeles Magazine, and later as the Vice President of Women 2.0, building out a passion project into a Women In Tech focused Media company with over 250,000 members worldwide and partnerships with many tech companies and Corps, which was acquired in 2016.

Sepideh has received several awards from government officials including David Chiu, the Assembly member of California, John Tory, the Mayor of Toronto, Scott Wiener, the Senator of California, and London Breed, the Mayor of San Francisco. In 2014, she was recognized by San Francisco Business Times/Journal "40under40" and Diversity Journal's 2014 "Women Worth Watching".
Lilly Ghalichi | 'Shahs Of Sunset' Star
Jan 28, 2021 | Interview
Lilly Ghalichi is a Persian American fashion designer, attorney, blogger and reality star who has a net worth of $50 million. Lilly Ghalichi rose to fame as a cast member of Bravo's reality television show The Shahs of Sunset.

She was born in Houston, Texas in April 1983. Her real name is Neelufar Seyed Ghalichi. While Lilly Ghalichi may look like a "Persian Barbie" with her long skinny legs and skimpy outfits, she is much more than meets the eye. In addition to being a knock out, Ghalichi is also an attorney, fashion designer, and blogger. Ghalichi is originally from Houston but moved to Los Angeles after passing the bar exam. Instead of pursuing a legal career, Ghalichi knew that her passions were in the fashion world.

Lilly earned her Bachelor's degree from Red McCombs School of Business at The University of Texas at Austin then went to Loyola Law School in Los Angeles where she graduated Cum Laude with honors.

She is the founder of "Lilly Lashes" which revolutionized the World of false lashes by creating "3D Lashes" which is also currently sold at Sephora.
Max Amini | Comedian

Dec 17, 2020 | Interview
MAX AMINI, born in Tucson Arizona, from a Persian heritage, was raised on the East Coast and graduated from UCLA's school of Theater, Film and Television in 2004. As an actor, Max has over 50 film and television credits including NBC's Heroes, regular appearances on Comedy Central's Mind of Mencia, and a leading role in the upcoming feature film Beyond Paradise.

While in college Max launched his standup comedy career in 2002. He quickly built a reputation as one of the fastest growing comedians in the Los Angeles comedy circuit. In 2006 the world-famous Laugh Factory in Hollywood recognized Max's brilliant performances, hard work, and dedication to his craft and made him a resident comic. In 2009 Max was chosen as one of the finalists for NBC's Diversity Showcase. He would later use this experience to develop a stand-up comedy tour in 2010 named "Exotic Imports" featuring second-generation Americans coming from diverse cultural backgrounds. His tour was very successful and sold out across the country.

Max is now headlining his own shows and has taken his tours internationally selling out around the world in Canada, the UK, Australia, Germany, Dubai, Sweden, Kula Lumpur… To accommodate his growing fan base, Max often adds additional shows to his world tours. His online presence also persists, and his YouTube channel has garnered over 10 million views as of today.

Through an array of eccentric impressions and novel storytelling, Max's comedy delivers a strong message about family ties, cultural trappings, and social topics, but what really sets him apart is his uncanny ability to improvise on the spot. This makes him such a unique entertainer that it's not uncommon for audience members to sit through two Max Amini shows in one night and experience two completely different performances.
Melissa Shoshahi | Comedian, Actress, Writer

Nov 20, 2020 | Interview
Melissa Shoshahi is an award winning stand-up comedian, actress and writer. She tours all over the country and world, bringing her witty personality to the stage knowing no limits when it comes to comedy – culture, relationships, world views and race are all fair game. Famous for her spot on Kim Kardashian impression, Shoshahi originally hails from Seattle, Washington and is the first Iranian-American female comedian to be touring all over the nation. She was on WhoHaha's Top Female Comics of 2018, she has also been featured on Laughs on Fox, All Def Digital, Nickelodeon, Fusion TV, and has acted in a myriad of independent films. Shoshahi has accumulated millions of views online with sketches and stand-up clips that have gone viral. She also uses her platform to raise awareness about Epilepsy.

"I want to bring peace through laughter. I'd love to share my jokes with the world and also inspire other women who may have always wanted to perform but who have been culturally deprived or too scared to step up and get out there too!" -Melissa Shoshahi
Mitra Azizirad | CVP, Microsoft AI & Innovation Marketing

Oct 29, 2020 | Interview
Mitra Azizirad is the Corporate Vice President for Microsoft AI where she is responsible for defining and accelerating the productisation of Microsoft's portfolio of AI innovation, and shaping and driving the perception of Microsoft AI. Mitra leads Microsoft's vision to democratise access to AI, empowering developers to innovate, industries to transform, and ultimately empowering every individual to transform society with AI.

A 27-year veteran of Microsoft, Mitra has held key leadership positions at Microsoft across a wide array of technical, marketing and sales functions, both in the field and corporate. Prior to Microsoft, she held technical leadership positions at the National Association of Securities Dealers (NASD/NASDAQ), and International Telecommunications and Satellite Organisation (Intelsat).
Mike Moghaddas | Realtor

Sep 24, 2020 | Topic: Real Estate Investments
Mike Moghaddas represents Northwest residential and commercial properties in the Greater Seattle area and is known for his expertise working with a rolodex of clients around the world.

With recent trips to Davos, Switzerland, where Mike served on the panel at the World Economic Forum, and to Shanghai, China, where he appeared at the Luxury Property Showcase, Mike has connected with some of the most elite business leaders, CEO's, Ambassadors and Businesses across the globe.

Mike has built his business on repeat referrals from gratified clients through his exceptional service, innovative luxury marketing, unsurpassed national and international reach and respected and trusted reputation worldwide.
Mike and his family are long-time residents of Kirkland, WA and active in many local charitable organizations.
Dr. Babak Parviz | VP of Amazon

Aug 27, 2020 | Interview
Babak Parviz is a Vice President at Amazon.com. He received his BA in Literature from University of Washington, BS in Electronics from Sharif University of Technology, MS in Physics from University of Michigan, MS and PhD in Electrical Engineering from Univ. of Michigan; and completed his postdoctoral fellowship in Chemistry and Chemical Biology at Harvard University.

Prior to joining Amazon he was with Google as a Google Distinguished Engineer and a Director at Google [x]. He is the creator of Google Glass. He founded, built, and led the Glass program till 2013, founded the robotics surgery program (now an independent company, Verb Surgical), and co-founded the Smart Contact Lens program at Google (now a joint collaboration with Novartis). He co-invented the biosensing technology resulting in the founding of Claros Diagnostics Inc. (acquired by OPKO). His research, engineering, and development interests span novel computing and communication paradigms, high-tech with social impact, bionanotechnology, bioengineering, MEMS, nano-scale devices, and photonics.

His work has been put on display at the London Museum of Science and has received numerous recognitions and awards including National Science Foundation Career Award, MIT Technology Review 35, Time magazine's best invention of the year (2008 and 2012), IEEE CAS Industrial Pioneer Award, Your Health Top 10 Medical advance of the year, and About.com top invention and has been reported on in thousands of articles worldwide. He was selected by Ad Age as one of the 50 most creative people in the United States. Last year he received the University of Michigan Bicentennial Alumni Award.